The #1 Tampa Solution for Plumbing Fixtures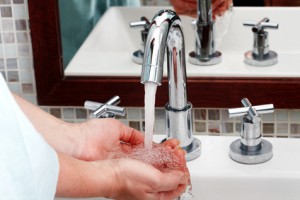 You might think that most plumbing fixture installations are an easy do-it-yourself job, but this is not the case! Without proper installation there is plenty that can go wrong in these cases, resulting in leaks, inefficient water flow, and even potential damage. Going the DIY approach can end up being costly if mistakes are made, but with a licensed and insured Tampa plumber, you can get expert workmanship all backed by a service guarantee.
Even if you're looking to have your existing plumbing fixtures repaired or replaced, the assistance of a professional contractor is invaluable. Quality help and assistance handled by a skilled and experienced repairman will mean that you can quickly get your fixtures back in working order, or replaced with as little interruption to your daily life as possible.
The next time you are in need of having a new sink, bathtub, or toilet installed, turn to the expert assistance of the professional team at 1st Choice Plumbing Solutions. Give us a call at 813-643-7556 to see what we can do for you today.
Toilets
Baths
High Quality Manufactured Fixtures
Shower Fixtures
Kitchen Plumbing Fixtures
Sinks
Bathroom Plumbing Fixtures
Garbage Disposals
Faucets
The Advantage of Turning to 1st Choice Plumbing Solutions
The assistance of a licensed and certified plumbing professional will go a long way to ensuring that you get the results you need. You shouldn't call on just any plumber to have your plumbing fixtures installed, repaired, or replaced, you want the service conducted by an experienced contractor with a reputation for high-quality work. When you call on 1st Choice Plumbing Solutions you will be getting just that.
All of our contractors have a strong dedication to providing our clients with the best customer service possible. We are wholly committed to offering you exceptional work on each and every job, and never cut corners when it comes to doing things right. Your satisfaction is guaranteed when you call on 1st Choice Plumbing Solutions.
100% Workmanship Guarantee
24 Hour Emergency Service
100% Customer Satisfaction
Recent Articles
The Once-And-For-All Fix For White Chalky Film On Dishes

If your dishwasher is leaving a white, chalky film all over your dishes, there are steps you can take to never have to deal with this frustrating problem again. Some people will try using a rinse aid product that promises to leave dishes sparkling clean only to find the results don't last long. There could…

Read More

Brandon Plumbing Emergency Tips - What to Do Until the Pro Arrives

No home or business owner wants to deal with Brandon plumbing emergency repairs but from time to time it is probably going to happen. The first common mistake home or business owners make is to simply panic. You obviously need to call a professional in, that's step one. But what else should you know and…

Read More

If you need high quality plumbing fixtures installed in your Tampa home, please give us a call at 813-643-7556 or complete our online request form.