Reliable Tampa Plumbing Contractor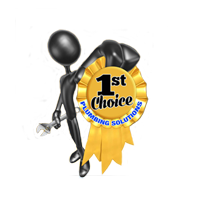 When it comes to taking care of important plumbing related services, our name really does say it all. At 1st Choice Plumbing Solutions we are the top choice for plumbing solutions in the Tampa area and surrounding areas. When it comes to trusting in a reliable expert to take care of whatever you need for your plumbing contractor services we are the leading name to trust in.
Our main focus is offering the best to our customers. This means the finest in workmanship, products we offer, customer service and affordable pricing. The best part is that we can take care of your home or business for any of the expert level plumbing services you may need.
Whether your plumbing service needs are planned upgrades or unexpected emergency repairs we have got you covered. Let our plumbing contractors take care of inspecting your current plumbing to determine how we can make repairs or improvements to your system and avoid costly problems that could throw off your household routine or even interrupt your business. Let's get started taking care of all of your plumbing service needs.
We provide our local Tampa and surrounding area customers with the following professional level services:
Latest Plumbing Tips
How to Know You Need a Water Heater Repair

Your water heater gets put to use every day for a variety of reasons: cooking, cleaning, bathing, and otherwise sanitizing yourself and your home. Since your Tampa home's water heater will be put to so much use, it's inevitable that it will develop issues that require a professional Tampa plumber repair. You need to be…

Read More

Energy Saving Tips For Bloomingdale Hot Water Heaters

One of the most common errors homeowners make is not checking the water heater thermostat setting. It is often set higher than necessary. The thermostat on a hot water heater tank controls how hot the water within is maintained at all times. The thermostat controls how often the heating elements turn on and off so…

Read More

If you require the assistance of a plumbing contractor in Tampa, please give us a call at 813-643-7556 or complete our online request form.