New Tampa Plumbing Services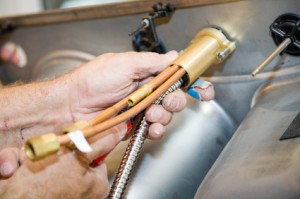 Stop wasting time searching for a contractor for your New Tampa plumbing services when you have already found the answer right here. At 1st Choice Plumbing Solutions we not only provide the services you need, we are the best in the business. When it comes to taking care of your home or business you should never settle for less than the best.
There are so many reasons you need a professional plumber around to take care of your plumbing. Leaks, fixtures, drain cleaning and more. So instead of taking your chances and hiring different people to take care of different jobs, let us take care of them all. Whatever is on your to-do list that is related to plumber services we can cross off for you.
Commercial and Residential Plumber in New Tampa
The exciting allure of New Tampa is due in part to the fact that it is still so relatively new. Although it was settled in the mid-19th century, it wasn't until the late-80's that it really began to be developed. So there is a sense of new growth and excitement you won't find anywhere else.
Which is of course also part of why we love being able to answer service call requests for this area. As the premier choice for commercial and residential plumbing services in New Tampa we could not be more honored. So while other communities around here draw their appeal from their rich historical ambiance New Tampa is the opposite. And it is a community we are thrilled to be a part of.
New Tampa Plumbing Repairs
You can feel confident about the service we can provide for you. At 1st Choice Plumbing Solutions we take this line of work seriously and it shows in the work we do. When we come out for New Tampa plumbing repairs you can rest assured the work will be done in a prompt and professional manner. Nothing but the best will do for the clients we provide our services with.
Emergency Service in New Tampa
Don't be stuck without hot water or a broken pipe in the middle of the night! And don't take a gamble by letting just anyone take care of your important repair work. We offer the best in emergency service in New Tampa.
You care about your home, family, business and clients so make sure you let the pros at 1st Choice Plumbing Solutions take care of your plumbing. We look forward to meeting with you to offer you the professional level of service that you truly deserve. Contact us today so we can get started taking care of your New Tampa plumbing services.
If you require the assistance of plumbing services in New Tampa, please call us at 813-643-7556 or fill out our online request form.