Sun City Center Plumbing Services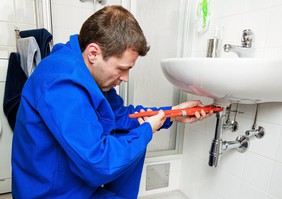 Don't take chances when it comes to getting your Sun City Center plumbing services. Trusting in anyone who lacks the proper training, experience, licensing, insurance or credentials would be a huge mistake for anyone to make. As a home or business owner your goal is to take the best care possible of it.
While that may mean also making sure you stay within a budget it doesn't mean you should settle for cut rate workmanship. Here at 1st Choice Plumbing Solutions you can get the finest in quality craftsmanship, products and customer service and all for a price you can easily afford. So let our trusted pros take care of whatever you need for your plumbing related services.
Commercial and Residential Plumber in Sun City Center
There is one thing for sure that can be said about the Sun City community and that is you won't meet nicer people any place else. This self-sufficient community for well-seasoned residents of 55 and older is so complex it even has its own hospital. And any place where you are allowed to legally drive golf carts on the street is just about as close to perfect as it gets.
So we are always honored when another resident here calls on us for commercial and residential plumbing services in Sun City Center. We look forward to being able to extend that to even more locals here. When it comes to getting the best in professional care let 1st Choice Plumbing Solutions be the name you trust in.
Sun City Center Plumbing Repairs
You need to be able to trust in someone who will stand behind their work when it comes to Sun City Center plumbing repairs. Without that you are doing nothing but hoping they will get the job done right. No one should ever have to take this type of approach to getting work done on their home or business.
Emergency Service in Sun City Center
We are also the reliable team that will be there when you need emergency service in Sun City Center. The concern is that when an emergency pops up you may make a poor choice of who to call if you are not already working with a respected plumber. This can lead to bigger and more drastic problems.
Don't get taken advantage of in your time of need. Contact the crew that not only can get the job done, but that cares about taking care of its customers. We want to be there for all of your Sun City Center plumbing service needs, anytime of day or night.
If you require the assistance of plumbing services in Sun City Center, please call us at 813-643-7556 or fill out our online request form.