Plumbing Repairs You Need In Carrollwood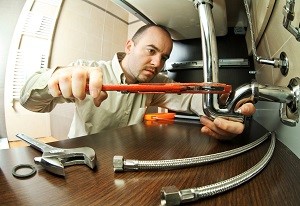 At 1st Choice Plumbing Solutions we want to be the local plumber that helps you to keep your plumbing is good working condition. That is why we treat you and your home with the same respect we would treat a member of our own family.  
By caring about you, the client, and taking care of your plumbing needs, we are a service and repair company that has built its reputation on providing high quality customer care at a fair price. 
When searching for a plumber, the phone book listings isn't the best way to go about it because anyone can pay for professional advertising. The chances of finding a good plumber in this way are so low it is not even worth your time. It is more likely that you will go through many bad ones first before you find anyone who is even up for the job.
There are, of course, several qualified plumbers in the phone listings but it is like finding a needle in a haystack – except that, in this case, you are likely up to your knees in a water emergency and don't need to waste time.
There are many amateur plumbers out there, and it is up to you to weed them out from the professionals who can really do the job. Getting referrals from your friends or people you work with is one of the best ways to find a good plumber.
Of course, being a good plumber is not always e
nough if it takes hours to get the work done. You need to find someone who can do good work, fast.
You really do not want some amateur plumbing contractor turning something the wrong way, breaking off a tap, and flooding your house. Your plumber needs to have a reliable reputation.
It is important to know if anyone you are acquainted with has had any sort of bad experience with the plumber. It is important to have the right information to be able to evaluate your plumber's ability to get the job done.
Carrollwood Drain Cleaning
Drain problems are likely to give anyone a headache. Imagine if water that contains sewer waste comes back up your toilet, bath tub, or even your shower! It's a nasty mess you want to avoid at all costs. Germs and bacteria could all come to you in an instant, and they often do when you start to have drainage issues.
This is why drain problems should be taken seriously at the start of such problem by scheduling services for drain cleaning. Protect yourself and your family from waste that is not supposed to be in your bathroom or on your sink. Wastewater is hazardous to everyone's health!
There are a lot of things to consider if you want to know what caused your drainage problems, but the most common cause is from things that get put down into the drainage pipe and in the other pipes attached to it.
These materials could be hair or other small particles that have built-up in your drainage pipe. These solids get stuck and become more troublesome if washing and bathing products such as detergents, shampoos, and soaps add to the solid build up already occurring in your pipes.
Recent Articles
Tampa Water Heaters - Should You Go Tankless?

More and more homeowners are making the switch to tankless when it comes to their Tampa water heaters. Some people are still unsure about it; unaware of what it is or the benefits it may present. There are also some common misconceptions, like that it is too expensive. Truth is, like standard water heaters, there…

Read More

Best Modern Plumbing Fixtures For Remodeling

Remodeling is all about modernizing your home, making it more functional, and creating a new design. But most of all, it's about turning your home into one that you love. There's little to love about an old bathtub, a kitchen sink that is cramped and hard to use, or an old flimsy faucet, but all…

Read More

---
f you are looking for a plumber in Carrollwood, please call 1st Choice Plumbing Solutions at 813-643-7556 or fill out our online request form.