Dependable East Lake Plumbers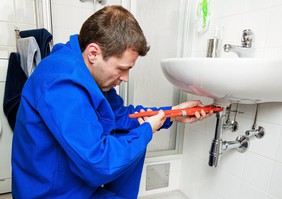 Every homeowner and commercial owner in East Lake should have a working and reliable plumbing system they can count on. This requires having a professional plumber who can make repairs and keep your plumbing parts and components in great shape. But it isn't always something most homeowner think about in advance, and instead find themselves stuck with a huge flood of dirty, contaminated water in their homes. Let the plumbers at 1st Choice Plumbing Solutions help you with your East Lake plumbing needs.
Our plumbers are reliable, efficient, and well educated. We can provide you with affordable plumbers that offer you the most in quality repairs and maintenance services that keep your plumbing system as reliable as it should be. Whether you're wanting to replace or repair your hot water heater, replace or upgrade your plumbing fixtures, or need to find out where a certain leak is coming from, call us first and you'll have a great plumber at your disposal.
Residential Plumbers In East Lake
As local area plumbers for East Lake homes, our plumbers understand how important it is to keep your plumbing systems clean and cleared. We also know you need to make repairs as soon as possible so you don't have to worry about leaks or clogs. Keeping your rusted or corroded plumbing components repaired or replaced is of vital importance or you could easily wind up with flooding in your East Lake home. We can inspect your plumbing system and provide you with the repairs needed.
East Lake Commercial Plumbers
When you need an East Lake commercial plumber, you need plumbers who understand all the ins and outs of plumbing repairs for a business entity. As a business owner, you need to ensure your business suffers the least possible amount of time with a downed plumbing system. You also have safety concerns and tighter requirements from building code authorities.
At 1st Choice Plumbing Solutions, we understand and know all about commercial plumbing and can help you with your plumbing repairs and other plumbing services. We also have 24/7 emergency plumbing repairs ready to serve your needs.
Water Heaters in East Lake, FL
Whether you need water heater cleaning, repairs, replacement, or new installations, our plumbers at 1st Choice Plumbing Solutions are ready to help you. We can install or replace your current water heater with a new tankless water heater system that will go a long way to helping you save on energy costs. Having on demand hot water when and where you want it in your home will make a huge difference for you and your family. From whole home tankless water heater systems to systems that only serve one area, you have options to suit your needs.
If you require the assistance of a professional East Lake plumber, please call 813-643-7556 or complete our online request form.